Responsibility for consumers and the environment
More and more consumers are demanding sustainable and safe food. The CleanSmoke Coalition supports companies in meeting their responsibilities to promote sustainable consumption of smoked food.
The CleanSmoke Coalition Congress on October 29th, 2019 in Hamburg is an international meeting place for the industry to exchange ideas with experts on all aspects of smoking.
Toxicologists, chemists, environmental experts, engineers, lawyers and representatives of the consumer end are expecting you from 9 am to 5 pm. They will report on the possibilities for minimising the PAH content in smoked meat products and on 3-MCPD in smoked fish. In September 2019, the EU will publish a new set of Best Available Techniques (BAT) for the food industry. Importance and impact for food producers will be presented and discussed. CleanSmoke in organic food and consumer protection are highlighted as current and central topics. The congress will be completed by an insider report from Sweden – a country that already uses 90 percent CleanSmoke.
Save the date for this event. The CleanSmoke Coalition Congress offers the opportunity to network and make new contacts.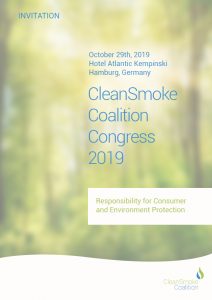 Download invitation & program folder (pdf)
If there are any questions concerning the event or the CleanSmoke Coalition, do not hesitate to contact the CleanSmoke Coalition office:
Telephone: +32 (0)2739 62 62
E-mail: info@clean-smoke-coalition.eu
Best regards,
Uwe Vogel